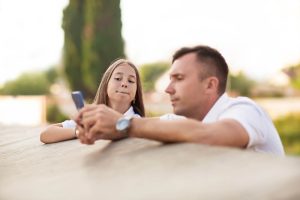 After a separation, one of the things parents find most difficult is the reality of having to spend so much time away from their child. In many cases, one parent will have significantly less time with a child than their ex does. This can be challenging, especially if there is ill will between the two former partners. Your ex might be resentful of any communications you attempt to initiate during "their" time together, making what is already a difficult situation feel even worse.
Nevertheless, both parents and children have the right to maintain relationships with each other, even after a divorce. The kids' health and needs must take precedence. An important part of that is the feeling that they are still connected to their parent, even when that parent is not physically present. Regular texting with your child can contribute positively to this sense of connection.
Texting Your Child Is Healthy
Although there are many reasons to feel that that excessive screen time can harm a child's development, there is evidence that technology has its benefits as well. In fact, a 2019 study from the University of Kansas showed that frequent texting between a child and their non-residential parent helped keep the child resilient. These results held true whether the parents themselves were actively co-parenting or their relationship was less than harmonious.
Keeping it Positive
That being said, there are some things to keep in mind to make it more likely that your communications are contributing to your child's life positively rather than negatively:
Respect your ex's time with your kid – When you text your child, try to let it come from a place of wanting to connect with them, rather than attempting to pull them away from your ex. If you respect your ex's time, it'll be more likely that they will respect yours as well.
Don't communicate with your ex through your child – If you have difficulty speaking to your former partner, it isn't fair to put that burden on your child instead. Of the many reasons it's important to establish clear lines of communication with your ex, one of the most important is that it is much healthier for your kid not to have to be a messenger.
Consider a texting schedule – For many children and parents, a communication routine can ease some of the emotional challenges of separation. For example, this might be an agreement always to send a "good morning" and "good night" text, in addition to wishing them good luck with any upcoming tests or sporting events. These consistent reminders may help children feel more confident that you are always there for them.
Let your child take the lead – Even if you do have a schedule, it's possible that your child might not respond as often as you want them to. This can be difficult, especially at first, but in the end, it's important that your child learns how to be comfortable away from each of their parents. Sometimes it might be easier for them to communicate less because they start missing you only when they speak to you. This might be what you want, but it might sometimes be too painful for them.
Texting is a great way of maintaining frequent contact with your absent child, but it does not replace the need for real-time communication by voice or video call, or in-person meetings. However, since these opportunities may not be as frequent as you or your child might like, texting regularly can help you both feel more connected in between those moments.
The Bottom Line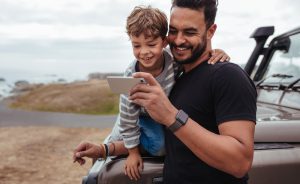 Even after a divorce, communication between a parent and a child is vital to the well-being of everyone involved. It is important that you and your ex are on the same page about your communications with your child. Just as you respect their time with your kid, they need to respect yours too. If you're unsure about whether your former partner is being fair about the terms of your ability to text or speak to your child, the attorneys at Adams Law Firm can help. Call (281) 391-9237 and speak to someone who can give you advice about what is acceptable or not, and at what stage you should put your foot down.
Ultimately, every situation is unique. But since it's so important for their well-being, finding a way of maintaining an open line of communication between you and your child should be a priority for everyone involved.