I'm looking for a
divorce Lawyer
Whether you're filing or you've been served papers, our team can help you every step of the way.
I need a Child support or
Custody lawyer
When children are involved, the stakes are high.We can help you achieve an outcome that favors your situation.
I'm not sure what kind of
lawyer I need
Our experienced team has seen many different scenarios through the years. Let us help you in your time of need.
Katy Divorce Lawyers
Let us help you through any family law issues you might be facing with our 35+ years of experience.
If you are considering divorce or have already been served, need to enforce or modify support payments, or need to take out a protective order, our experienced attorneys and staff are here to guide you through the process ahead and ensure that your legal rights are asserted to the fullest extent available under Texas Law. The Adams Law Firm is a Katy, Texas based divorce firm that represents families and individuals in a wide range of family law and divorce matters. Since 1977 our firm has guided clients through countless difficult and complex family law cases. We are AV Preeminent® Rated by Martindale-Hubbell® for exceptional ethical conduct and legal ability. Our attorneys are more than capable of handling any divorce or family law issue you may be facing.
Ready to schedule a consultation?
Call 281-391-9237
Testimonials
"I highly recommend The Adams Law Firm. I needed representation for the divorce I was going through. John was understanding and compassionate during our initial meeting. After listening to my story and hearing what my goals were for my divorce, John informed me that my expectations were too low and not only was he going after what I had mentioned ..."
Keith Moore -
"If I could give Anna a six, I would. She did everything that I asked and I have no complaints. She answered all of my questions and was good at keeping in touch with me."
Andrew P -
"Heather Bachman was highly professional and very easy to work with. She kept me informed every step of the way and followed through with everything she said she would do. I highly recommend her for any family law issues you need help with."
Brooke Ayars -
"John Lemos was a wonderful lawyer during my divorce process. He is very kind and caring. His assistant Terry is awesome."
Debbie Sowa -
"Anna is very punctual and has been a pleasure working with. Anna is a very smart and hard worker, and I can tell that she really cares about my case. I am very pleased with my representation thus far. It eases my mind to know that Anna cares about my case and to know that she puts in the hard ..."
Joshua S -
"There is no one better to be on your side when it comes to divorce and custody battle than John Lemos. He handled my case like a BOSS!! He was very professional and very wise with EVERYTHING!! The staff was amazing (even maverik). I felt like I was a part of the family. In reality I wouldn't give Adams Law ..."
Julius Quiam -
"So far everything has been good. Anna is straight to the point. She told me her opinions on how everything would be up front. When I first walked in her office she gave me a lot of feedback and options."
Denzel H -
"Anna did a great job overall. She did a good job responding in a timely manner. I was being barraged by my now ex, and Anna did a great job advising me through that ordeal. I think everything went well and I am pleased with how it turned out. It was an overall good experience."
P.S -
"Anna did really well. She is very aggressive, and she seemed like she knew more than the opposing counsel. I actually think she kind of stunned them, in my opinion."
Jim H -
"I am very, very happy with Anna. She's so organized and very professional. I think she's a very good lawyer."
Cesar P -
"You know, I found Anna to be extremely knowledgeable! I thought she was extremely professional too. She was always very timely with her responses and getting back to me. I was very pleased with her."
John B -
"Anna represented me really well in court. She was always very thorough and seemed to be miles ahead of the other attorney. I don't have any complaints, and [I] think it was a good experience overall."
Andrew M -
"She's amazing. Anna is just awesome. I think she's doing a great job for me, and she always keeps me well informed."
Robert M -
"Anna has always kept me very well informed. She is on top of her game and is really good at thinking on the spot, and [she] showed that in trial. I think she came very well prepared, and it really showed. … I know I pay a lot but I think this shows there is a reason for it. I ..."
Andrew M. -
"This was my first experience seeking legal advice. Anna kept in good contact. I was very satisfied with the services. She heard what it was that I wanted and she worked with me. She was fair, open and shared her guidance and knowledge."
D.R -
"So far, so good. You all have done a lot for me. I have no clue what I'm doing here in this situation; that's why I hired the experts! Anna has brought things to my attention that I would never have thought of, and that's why I like Anna. [I] think your firm is doing a very good job."
Nicholas R -
"Anna was very kind. She is very knowledge[able] and helpful. She always responded back quickly and always let me know what was going on. I'm very pleased with her"
Michael M -
"As far as I'm concerned, she is doing very well with my case. She got my temporary orders agreed on last week, so everything is working in my favor right now! Everything is going great so far."
Allen E -
"She has been very professional. I never feel rushed by her, and she's also always very willing to answer my questions. I'm very impressed by her."
Billy R -
"Used The Adams Law Firm for a custody issue, the staff was very friendly and helpful. Mrs. Bachman explained everything thoroughly and in a way I could understand. Highly satisfied, and recommend."
Chris Trejo -
Our Family Law Services
At the Adams Law Firm, our Katy family law attorneys have decades of experience helping Texans through the twists and turns of family life, with legal services for divorce, child support, and beyond. While each case is different, we approach each one with the same hard work, respect, and creative thinking. We handle a wide variety of family law cases, including: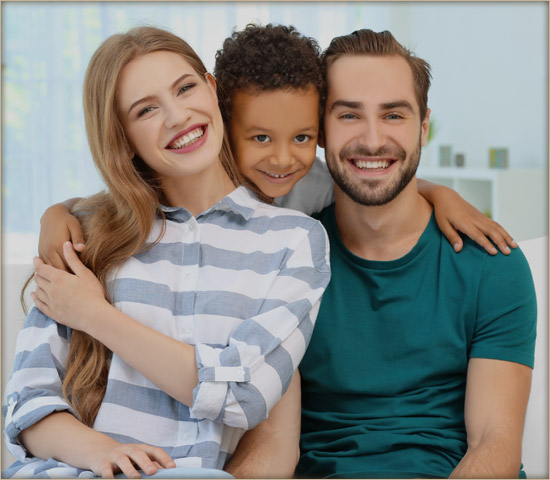 The Adams Law Firm Difference
More Than 35 Years of
Experience
Since 1977, our Katy divorce attorneys have served clients throughout the greater Houston area with dedication and skill.
Top Family Lawyers
by H-Texas Magazine
Recognized as leaders in the field, we have been voted top lawyers in family law for the Houston area. We are known for skilled, dedicated advocacy.
AV Preeminent®
Rating
Our firm has garnered this top peer rating from Martindale-Hubbell® due to a reputation for meeting the highest standards in ethics and legal excellence.
Personalized
Representation
Our firm has garnered this top peer rating from Martindale-Hubbell® due to a reputation for meeting the highest standards in ethics and legal excellence.
Get Years of Experience in Your Corner
Deciding to file for divorce - or being served with divorce papers - can stir up a range of emotions. Some feel freed, others feel crushed, and many, regardless of the emotions, simply do not know where to turn. At Adams Law Firm, we are proud to have represented countless clients during the past 35 years who we assisted in obtaining favorable resolutions to their divorce proceedings. Our team of Katy divorce attorneys stands ready to provide you with the outstanding representation you deserve. Whether you are filing for divorce or have been handed divorce papers, you can count on our team to assist you.
Grounds for Divorce in Texas
In the state of Texas, there are a few different reasons that you can state as grounds for divorce. Depending on your situation, it can be important to work with an attorney to determine which may be the best legal route to take. Grounds for divorce in Texas include:
Living apart
Insupportability
Cruelty
Adultery
Conviction of a felony
Abandonment
Confinement in a mental hospital
The most common ground for divorce is the claim of insupportability, which means that a court can grant a divorce if evidence is proven that the two spouses cannot reach agreeable terms in their relationship. In these cases, the couple may have attempted to salvage the marriage through counseling or marital support but simply could not succeed together.
Types of Divorces
Our firm assists clients who can agree on everything and want to remain outside the court system (collaborative divorce), those who can agree on almost everything and simply need the input of mediators or the court system to resolve the last few items of contention (agreed divorce), and those who cannot agree on much of anything and need to take their case before a judge or jury to have the case resolved (contested divorce). We are here to guide you in your determination of the best path forward for you and your family and can help you accomplish your goals using one or more of the methods described above. Do not hesitate to contact our team today to speak with a Katy divorce attorney and ensure that you receive the support you need during your divorce proceedings.
Reasons to Hire a Divorce Attorney
Divorce can be an incredibly complex process with a myriad of applicable laws, deadlines, and paperwork – all of which can carry a large margin for error. Even simple clerical mistakes when filing divorce papers can have massive consequences, resulting in setbacks or even causing you to lose out on a portion of your entitled marital property. At Adams Law Firm, we are intimately familiar with the process of divorce and can help you navigate through its complexities with accuracy and utmost care.
Our divorce lawyers can provide the following services and benefits:
Gathering necessary documents
Accurately and promptly completing paperwork
Presenting dispute resolution options
Meeting all legal deadlines
Protecting your assets
Negotiating child custody arrangements
Preparing visitation orders
Accompanying you to court-appointed conferences
Informing you of all developments in your case
Helping You Prepare for Divorce
If you are considering divorce, or if you have just been served with divorce papers, it is vital you take certain steps to prepare for the road to come. Your first priority should be to get organized and begin collecting the necessary documentation. This includes financial documents, property deeds, bank statements, birth certificates of any children you and your spouse may share, business documents, tax returns, and any prenuptial or postnuptial agreements you may have. Our attorneys can help you with this process and provide you with a full list of required documents.
In addition, it is important you watch what you say and do during this time, especially online. Electronic communications such as text messages, social media posts, and emails can be submitted as evidence during divorce and impact the outcome of divorce proceedings. For example, badmouthing your spouse on Facebook or posting photos with a new significant other during divorce can prompt a judge to favor your spouse and see you in an unsavory light, potentially impacting issues such as spousal support, asset distribution, or even child custody. As a general rule of thumb, do not post or send anything that you would not want a judge to see.
Modifying Your Divorce Arrangement
While a divorce decree carries the enforceability of law, it is by no means set in stone forever. Post-divorce modifications may be issued if a considerable change in circumstances should present itself for either spouse. Issues that may be renegotiated include spousal support, child custody arrangements, child support, and visitation.
A modification may be requested for numerous reasons, including:
Loss of Employment
Substantial Increase or Decrease in Income
Remarriage of a Spouse
Illness or Disability
Criminal Incarceration
Relocation of a Spouse
The Impact of Divorce on Your Children
Most parents' main concern during divorce is the impact their separation will have on their children's lives. As family dynamics shift and parents change residences, it is imperative to keep in mind the best interests of your children during this tumultuous time. At Adams Law Firm, our Katy custody lawyers understand fully the importance of your children's safety and happiness and are prepared to do everything within our power to ensure a smooth transition for them during your divorce. From determining child custody to negotiating visitation arrangements, we are prepared to make every effort to secure an outcome that ensures their wellbeing and protects your right to maintain an active presence in their lives.
Contact Us to Discuss Your Situation
Send us an email and we'll back to you as soon as possible to go over your
legal needs. Our pricing is fair, reasonable, efficient.